Is There Any Downtime After a Chemical Peel?
A chemical peel is an excellent treatment for anyone wishing to rejuvenate or improve their complexion. Chemical peels cause the top layer of facial skin to dry and peel, so there will be a period of time after the treatment in which the skin is in the shedding process. During this period, the skin may be red, dry, and uncomfortable, but these side effects will be well worth it after the process is complete.
What is a Chemical Peel?
A chemical peel is a treatment in which a solution of chemicals is applied to your face, causing the top layer of skin to peel off and reveal a fresh layer beneath.
Chemical peels are comprised of a few rejuvenating chemicals, including an acid that initiates the skin peel. After the solution is applied, your aesthetician will leave it in place for the time required to take effect. The skin will begin to peel and harden, encouraging further shedding of the entire top layer. Once complete, this process reveals a fresh, unblemished layer beneath.
We offer different intensities of chemical peels depending on your desired results. A light chemical peel will be less uncomfortable and heal faster, but the results will be less dramatic than a deep chemical peel.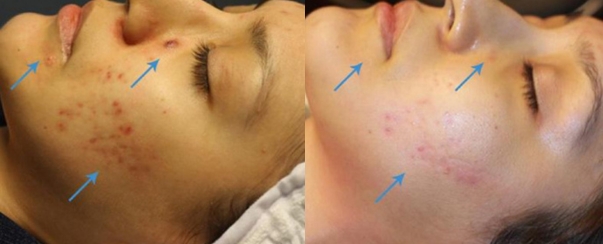 Is There Any Downtime After a Chemical Peel?
Though a chemical peel will not keep you from your daily activities, the effects will be noticeable for a few days. Therefore, some patients may choose to take some time off of work or social obligations.
Though some effects from the peel will be visible in days, including increased tightness and improved texture, it can take 6-12 weeks to reap the full benefits. Chemical peels encourage collagen production in the newly revealed layer of skin, and this process can continue for up to one year following treatment.
Request a Consultation
We'd love to help you get all the information you need in order to make the best choice for your eyes. Request a consultation today! Our staff is available and happy to answer your every question.
What Are The Different Types of Chemical Peels?
You have a variety of chemical peel options at Rejuve Med-Spa:
The Illuminize Peel
The Illuminize Peel is the lightest option that we offer. This gentle peel causes the topmost layer of the skin to shed, revealing a more vibrant complexion beneath.
The Vitalize Peel
The Vitalize Peel is slightly more intense and is particularly effective in reducing signs of aging and acne. The peeling process typically takes 2-3 days to complete.
The Rejuvenize Peel
Similar to the Vitalize Peel but slightly stronger, the Rejuvenize Peel produces the same effects on a more dramatic scale. Due to its increased intensity, the peeling phase lasts 3-4 days.
The RevePeel
The RevePeel is a moderate option that works wonders on hyperpigmentation, age spots, and acne scars. Another benefit of this peel is that it can be applied to the neck and chest, as well as the face.
Enlighted RX Peel
Finally, the Enlighten RX Peel is a 28-day program that is targeted toward removing the effects of sun damage. Though this option requires more time to complete, the results are impressive.
What Can a Chemical Peel Treat?
Rejuve Med-Spa offers many different skin treatments to accomplish your particular goals. We use a state-of-the-art Visia skin analysis to view a 3D image of your skin, allowing us to recommend the best treatment for you.
A chemical peel may be right for you if you have rough skin, wrinkles, scars, or sun damage and would like a clean cosmetic slate.
Take the Next Step
Want to know more about chemical peels®? Please fill out the form on this page to request an in-person consultation, and one of our knowledgeable medical staff members at Rejuve Med-Spa will contact you to schedule an appointment. You can also call (972) 265-1590 to schedule your appointment.
Rejuve Med-Spa serves the Addison / North Dallas & Borderline Plano areas.