Botox® VS Dermal Fillers: What's the Difference?
Some of the most common age-defying treatments are Botox® and dermal fillers. While both are minimally-invasive injectable procedures, they are different in how they function and their materials.
What's the Difference Between Botox® and Dermal Fillers?
Let's look at what sets Botox® apart from Dermal fillers, including the differences in their ingredients, the areas they treat, and their results time.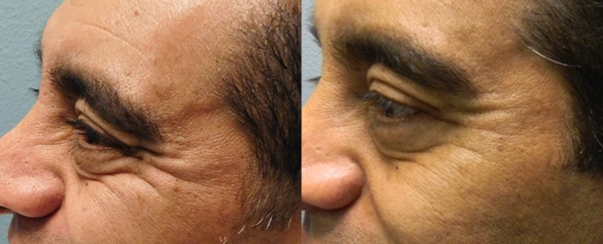 Botox®
Botox® is an FDA-approved cosmetic treatment that treats multiple skin issues. This drug is made from a toxin created by the Clostridium botulinum bacterium. When used in small amounts, Botox® can treat frown lines between the eyebrows, crow's feet (lines around the eyes), and forehead lines.
Botox® injections work by temporarily relaxing the facial muscles to improve the appearance of wrinkles. Additionally, Botox® has several medical uses. The FDA has approved Botox® injections to treat chronic migraines, eye muscle issues, and other medical problems.
Botox® treatments will take about half an hour to complete, meaning you will not have to take too much time out of your day to improve your skin. Unfortunately, the results of Botox® are not permanent but may last for multiple months. You can expect the effects of your Botox® injections to last anywhere from three to four months. These results may vary from patient to patient.
Dermal Fillers
Dermal fillers are minimally-invasive treatments that can plump up the lips, fill in and smooth facial wrinkles and lines, improve the look of scars, and restore volume to your face. There are many different dermal fillers made of synthetic or natural ingredients. Many fillers contain hyaluronic acid, a natural substance present throughout our bodies.
For example, the Juvederm® line of fillers contains hyaluronic acid to help hydrate and provide nutrients to your face. Also, hyaluronic acid fillers help stimulate collagen production, keeping you looking young.
Unlike Botox® injections, the effects of dermal fillers can last even longer. You can expect your Juvederm® fillers to last from six to 24 months. You can maintain your results by getting repeat treatments.
Request a Consultation
We'd love to help you get all the information you need in order to make the best choice for your eyes. Request a consultation today! Our staff is available and happy to answer your every question.
Botox® Vs. Dermal Fillers: Which One is Better?
Both Botox® and Juvederm® are safe and effective injectable treatments. They just each use unique formulas to rejuvenate your skin. Deciding which treatment is best for you depends on your personal skin needs and goals. You also have the option to receive Botox® and facial dermal fillers at the same time to achieve comprehensive results.
Am I a Good Candidate for Botox® and Dermal Fillers?
Most people are candidates for Botox® and dermal fillers. If you want to reverse or temporarily prevent the visible signs of aging on your face, you may be perfect for these injectable treatments. To find out if Botox® and dermal fillers are right for you, we recommend you schedule a consultation with one of our aestheticians or medical assistants. They will be able to inspect your skin, discuss your aesthetic goals, and decide if Botox® or facial fillers are suitable for you.
Take the Next Step
Want to know more about Botox® and dermal fillers? Please fill out the form on this page to request an in-person consultation, and one of our knowledgeable medical staff members at Rejuve Med-Spa will contact you to schedule an appointment. You can also call (972) 265-1590 to schedule your appointment.
Rejuve Med-Spa serves the Addison / North Dallas & Borderline Plano areas.