How Can I Repair Summer Skin Damage?
As great as summer is for recharging our batteries, sun exposure has a downside. It exacerbates wrinkles and contributes to pigmentation anomalies and age spots. Rejuve Med-Spa's exclusive spa atmosphere, extensive Visia skincare analysis, and variety of treatments make us the perfect place to repair summer skin damage.
How Do Chemical Peels Work?
With five chemical peels to choose from, the Rejuve Med-Spa team is ready to treat you like royalty while addressing your specific skin concerns. Typical peels chemically exfoliate the topmost layer of skin, taking the damage from your outdoor summer fun with it and revealing newer, healthier skin beneath. With a range of strengths, Rejuve Med-Spa is sure to have a chemical peel perfect for reversing sun damage, uneven tone or texture, wrinkles, pigmentation problems, and acne scars on your face, hands, décolletage, and more.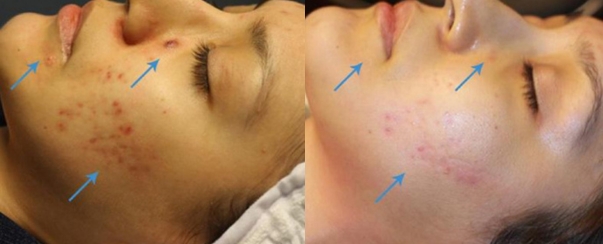 Which Chemical Peel is Right for Me?
First-time patients often seek a gentler treatment rather than medical grade. The Illuminize Peel resurfaces the skin with minimal irritation, much like microdermabrasion. It's a great introduction to chemical peels for addressing mild sun damage.
For experienced patients, The Vitalize Peel is very popular. This deeper peel is effective for treating wrinkles and moderate pigmentation changes, such as sunspots. The 2-3 day peeling phase sheds the dull, damaged cells the sun hasn't been kind to.
The medical-grade Rejuvenize Peel takes on the worst of summer sun damage. Its 3-4 day peeling phase takes with it dark sun and age spots as well as softens deeper wrinkles while hydrating skin to avoid dryness and a weathered look.
The RevePeel is perfectly tailored to combat textural issues and discoloration. This medium depth, medical-grade peel repairs hyperpigmentation, fine lines, scarring, and age spots at a cellular level in a single peel.
The Enlighten MD Peel is a 28-day program designed to remove pigment specifically brought about by the summer sun, primarily focusing on Melasma. With a blend of HQ 8%, Retinol, Salicylic acid, Kojic acid, Arbutin, Niacinamide, THD ascorbate, and Vitamin C, Enlighten tackles sun damage for an overall clean, fresh, and uniform complexion. This peel is safe for all skin types.
Request a Consultation
We'd love to help you get all the information you need in order to make the best choice for your eyes. Request a consultation today! Our staff is available and happy to answer your every question.
Am I a Good Candidate?
Rejuve Med-Spa's number of peel choices make almost anyone with sun damage an ideal patient. Your comprehensive consultation will outline the best peel for you and answer all your questions.
Treatment, Results, and Downtime
Chemical peels take only 20 minutes to apply, and tolerance and downtime depend a lot on the patient's skin condition and sensitivity as well as the strength of the peel chosen. Fairly immediate results continue through the peeling phase. Your skin will be sensitive to sun exposure for 1 week, and sunscreen is critical to prevent further damage. Once healing is complete, your skin is revitalized. Lasting results are achieved with repeated applications, on average between 3-6 sessions scheduled every 3-4 weeks.
Our consultation process begins with Visia skin analysis, for a 3D picture of your skin from the inside out. We then help you choose which chemical peel is ideal for you. Our team is not paid on commission, so your safety and satisfaction really are our number one priority. Relax and reverse your sun damage in style at Rejuve Med-Spa.
Take the First Step – Request A Consultation
Please fill out the form on this page to request an in-person consultation and one of our knowledgeable medical staff members at Rejuve Med-Spa will reach out to you promptly. You can also call our offices directly to schedule at (972) 265-1590.
Rejuve Med-Spa serves the Addison / North Dallas & Borderline Plano areas.