What Does Laser Skin Resurfacing Do?
There are many different types of skin rejuvenation treatments. Laser skin resurfacing targets pigment in the skin to improve signs of aging and sun damage. At Rejuve Med-Spa, we offer two lasers, depending on your current condition and personal goals.
What is Laser Skin Resurfacing?
Laser skin resurfacing is a facial rejuvenation technique to improve the appearance of sun damage, acne, and signs of aging. Depending on the laser used and your skin concerns, our laser technicians at Rejuve Med-Spa customize your treatment. We offer two laser treatments: Pixel Skin Resurfacing and the Photo Facial.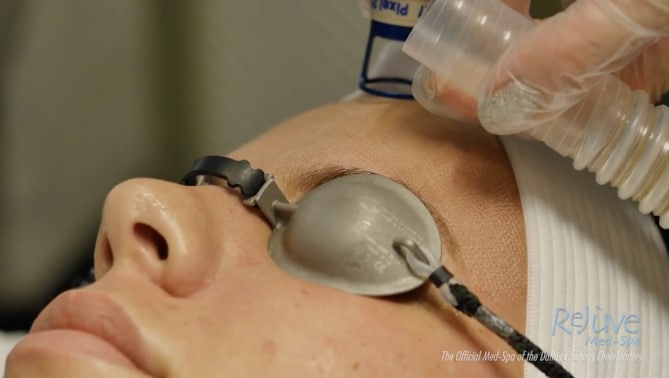 What Does Laser Skin Resurfacing Work?
Depending on the laser chosen, our two lasers have different methods of resurfacing your skin.
Pixel Skin Resurfacing
An FDA-approved treatment, Pixel Skin Resurfacing uses fractional laser technology to clear sun damage, acne scarring, fine lines, and wrinkles and reduce pores. The microscopic perforations promote rapid healing and collagen production.
The non-ablative laser offers less risk and downtime than other harsher skin resurfacing treatments. Perforations pass through patented optics, penetrating only a few sheets of paper deep into the skin. Pixel Skin Resurfacing draws your natural beauty to the surface.
Photo Facial
At Rejuve Med-Spa, we use the Harmony®XL from Alma Lasers to perform the Photo Facial. The Harmony®XL Photo Facial reverses signs of aging and various skin conditions, including sun damage, age spots, rosacea, broken capillaries, enlarged pores, dyschromia, erythema, superficial telangiectasia, and uneven skin tone or pigmentation issues.
Using advanced fluorescence, the Harmony®XL's short, low-energy pulses of broadband light target pigment issues within the skin. The molecules responsible for pigment absorb the light and break down the pigmented cells. Once broken down, the body filters out the cells through the lymphatic system, or they flake away from the skin's surface.
Request a Consultation
We'd love to help you get all the information you need in order to make the best choice for your eyes. Request a consultation today! Our staff is available and happy to answer your every question.
What are the Benefits of Laser Skin Resurfacing?
At Rejuve Med-Spa, our laser skin resurfacing technologies offer skin rejuvenation with less risk than some other traditional lasers. Some of the other benefits include:
Highly effective against sun damage

Less downtime

Less invasive

Smoother, younger-looking skin
Should I Get Laser Skin Resurfacing?
If you deal with sun damage and other skin conditions, you may be a good candidate for laser skin resurfacing. If you have an active breakout of acne or cold sores, you may not be a good candidate for laser skin resurfacing. Laser skin resurfacing works on all skin types and most skin tones.
We offer many options for our patients looking to improve their skin's appearance. To learn more about laser skin resurfacing or other treatment options, please schedule a consultation at Rejuve Med-Spa.
Take the Next Step
Want to know more about laser skin resurfacing? Please fill out the form on this page to request an in-person consultation, and one of our knowledgeable medical staff members at Rejuve Med-Spa will contact you to schedule an appointment. You can also call (972) 265-1590 to schedule your appointment.
Rejuve Med-Spa serves the Addison / North Dallas & Borderline Plano areas.