How Much Does a HydraFacial Cost?
Sun exposure, pollution, and high stress can burden skin cells, stunting healthy hydration and collagen and elastin growth. Over-the-counter creams and serums can work to combat these, but over time, even they may lose their effectiveness. If you're concerned about the health and radiance of your skin, a HydraFacial® at Rejuve Med-Spa may be just the boost you need.
How Do HydraFacial® Treatments Work?
Hydration, collagen, and elastin are the three biggest components of a clear, healthy complexion. As we age, sun exposure, environmental irritants, and stress can cause these to break down, slow their renewal, and leave our skin dull, dry, and damaged. HydraFacial® combats this by exfoliating damaged cells, rehydrating tissues, and infusing the skin with antioxidants to cleanse and peptides and hyaluronic acid to rejuvenate and protect your skin, promoting healthy collagen and elastin production for a radiant, youthful glow.
Hydration is the key. HydraFacial® extracts impurities with HydroPeel® tips while treating the skin with cleansing, moisturizing, and refreshing serums that boost collagen and elastin. Even the most sensitive of patients rave about the effects of HydraFacial® at Rejuve Med-Spa.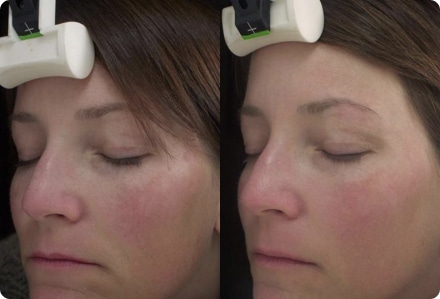 Am I a Good Candidate?
If you've been exposed to UV rays, pollutants, or other harmful free radicals, you're an ideal candidate for HydraFacial®, no matter your skin type. Start your customized HydraFacial® Resurfacing treatment with a consultation at Rejuve Med-Spa.
What Are HydraFacial® Treatments Like?
HydraFacial® treatments at Rejuve Med-Spa are luxurious, not only because of our relaxing, spa-like atmosphere but because the treatment itself is remarkably pleasant. Many patients describe the sensation as that of a cool paintbrush soothing the skin of their faces. Our basic HydraFacial® takes only 30 minutes to complete, while our deluxe treatment is 60 minutes and includes a double cleanse and mask. You may also add boosts, such as an ampule of growth factor, britenol, dermaplaning, and other bonus options at no extra cost. You'll be free to apply makeup and resume your busy schedule as soon as your HydraFacial® at Rejuve Med-Spa is finished.
Request a Consultation
We'd love to help you get all the information you need in order to make the best choice for your eyes. Request a consultation today! Our staff is available and happy to answer your every question.
How Quickly Will I See Results?
HydraFacial® Resurfacing at Rejuve Med-Spa delivers immediately. You'll leave our office with a visibly improved and refined complexion that will last 5-7 days. We recommend monthly treatments to prolong HydraFacial's® effects.
How Much Does a HydraFacial® Cost?
A single HydraFacial® treatment ranges a cost of $150-$300 with RealSelf.com members reporting an average of $175. Some providers charge between $40-$100 per boost added, as well.
At Rejuve Med-Spa, you get so much more with our HydraFacial® Resurfacing treatment. We use the state-of-the-art Visia skin analysis system during your consultation and the creation of your treatment plan. Visia's multi-spectrum imaging gives us a total 3D picture of your skin. This maps your skin's condition and pinpoints irregularities, wrinkles, pores, discoloration, UV spots, vascular areas, and even bacteria and oils, allowing your Rejuve Med-Spa consultant to customize your treatment through the proper choice of serums for your specific skin concerns. We also don't believe in add-ons, charging a lot for extras, or high-pressures sales pitches. Your HydraFacial® treatment package will include everything you need for healthy, glowing skin right from the start.
Take the First Step – Request A Consultation
Please fill out the form on this page to request an in-person consultation and one of our knowledgeable medical staff members at Rejuve Med-Spa will reach out to you promptly. You can also call our offices directly to schedule at (972) 265-1590.
Rejuve Med-Spa serves the Addison / North Dallas & Borderline Plano areas.