How Can I Get Rid of My Double Chin?
You can work out, eat right, and lead an active, healthy lifestyle and still be plagued by a double chin. Genetics, hormone changes, and weight fluctuations all contribute to the double chin, also known as submental fullness, and there are few effective exercises that target this area. So how do you get rid of your double chin? You let Rejuve Med-Spa's expert injection technicians take care of it for you.
How Does Kybella Work?
Kybella is the only FDA approved non-surgical solution for the double chin. Deoxycholic acid, which your body produces to break down dietary fat, targets down fatty tissue, dismantling fat cells, and helping the body filter them out of your system so they're gone for good. You can regain your regal profile, define your jaw, and minimize jowling with just a few sessions. While the results are dramatic, they happen over the course of several treatments, so no one even has to know you've had work done to restore your youth and redefine your jawline.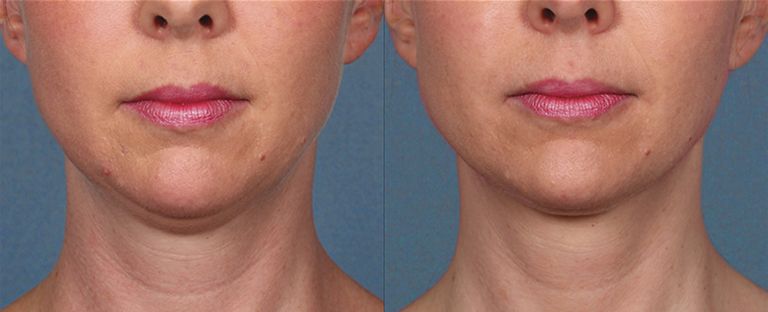 Am I a Good Candidate?
Are you tired of hating your profile? If you answered yes, then Kybella may be just the thing for you. Be sure to disclose any medications you may be taking at the time of your consultation.
What are the Treatments and Downtime Like?
During your consultation, our Rejuve Med-Spa staff will answer all your questions and give you a comprehensive treatment plan that explicitly states your number of sessions, timeline, and cost. There are no high-pressure sales pitches at Rejuve Med-Spa because our staff is not paid on commission. Your customized treatment regimen will include between 2 and 6 sessions as needed for an optimal outcome, and each session will be scheduled 4 weeks apart.
Your sessions take approximately 30 minutes, during which time our expert injectables RN will administer your Kybella treatment. They are no more painful than typical injection treatments, though minor side effects, such as injection site tenderness, swelling, bruising, redness, and numbness, are possible. These are usually resolved within 48 hours. The tenderness may persist for up to 2 weeks, but that is normal.
Request a Consultation
We'd love to help you get all the information you need in order to make the best choice for your eyes. Request a consultation today! Our staff is available and happy to answer your every question.
Beautiful Results
Kybella dissolves your submental fat over a period of months, and most patients experience visible improvement within 2-4 sessions. Because the medication melts away fat slowly, it isn't obvious you've had a cosmetic procedure to improve your profile. In fact, many patients report friends and family asking if they've lost weight, changed their hair, or otherwise enhanced their appearance. Only you and Rejuve Med-Spa will know you've had work done. The best part is, once your submental fat is filtered out of your body, it's gone for good. With healthy living, your double chin should not return, and you don't need ongoing maintenance treatments.
At Rejuve Med-Spa, we pride ourselves on our expertise in all things cosmetic, particularly with injectable treatments. Our injection specialists have been extensively trained by Allergan, the manufacturer of Kybella and other popular injectables. Relax in our opulent spa atmosphere with the knowledge your double chin's days are numbered, and once it's gone, your jawline will be defined and your profile will be restored.
Take the First Step – Request A Consultation
Please fill out the form on this page to request an in-person consultation and one of our knowledgeable medical staff members at Rejuve Med-Spa will reach out to you promptly. You can also call our offices directly to schedule at (972) 265-1590.
Rejuve Med-Spa serves the Addison / North Dallas & Borderline Plano areas.