How Long Does a Hydrafacial® Last?
Though microdermabrasion and chemical peels can offer impressive results in improving the complexion, they can be uncomfortable to undergo. A Hydrafacial® at Rejuve Med-Spa offers the benefits of these procedures without the side effects or downtime. This treatment keeps the skin healthy and glowing by utilizing suction technology to exfoliate and cleanse and then infusing the skin with a revitalizing and hydrating solution.
What is a Hydrafacial®?
​​A HydraFacial® is a popular, non-invasive facial treatment that utilizes specialized applicator tips to remove impurities from your skin. During a Hydrafacial®, the HydroPeel tips will use suction to exfoliate and clear away dead skin and other debris.
This procedure is extremely popular because of its ability to simultaneously cleanse, exfoliate, and hydrate your skin, infusing it with a combination of peptides, antioxidants, hyaluronic acid, and other moisturizing materials designed to make your skin glow.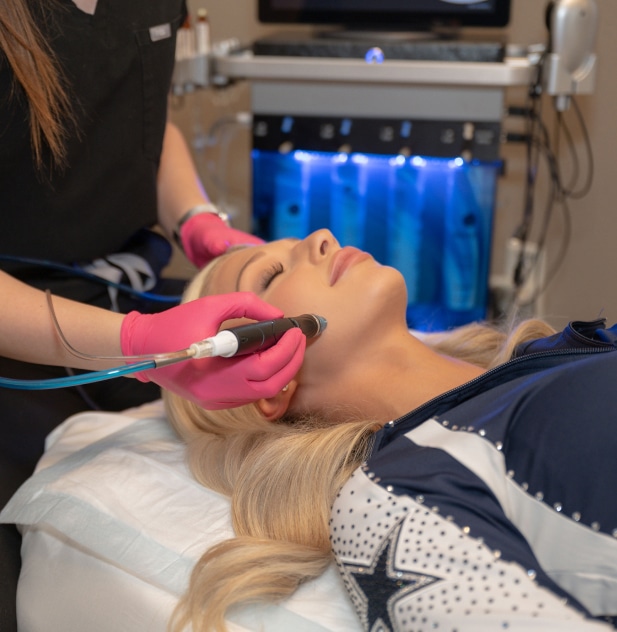 How Long Does a Hydrafacial® Last?
To fully reap the benefits of the Hydrafacial® treatment, Rejuve Med-Spa recommends that the process be repeated frequently, ideally every two to four weeks. The effects of the Hydrafacial® are cumulative, as continued exfoliation and nourishment of the skin are essential to maintaining its glow.
However, if you can't commit to this frequency, it is possible to maintain your results with just two treatments per year. Some people opt for treatments in the summer and winter to help their skin adjust to seasonal changes.
What Are The Benefits of a Hydrafacial®?
A Hydrafacial® is quick, painless, and provides numerous benefits. Besides exfoliation and hydration, this treatment can reduce wrinkles and sagging skin by revealing fresh layers and adding firmness to your face.
A Hydrafacial® also encourages the natural production of collagen for up to a year after treatment, continuing to rejuvenate your skin. Finally, there is no downtime required for this treatment, making it the perfect choice for those looking for a pre-event glow. Your skin can be a little pink after treatment, so be sure to get your facial at least a couple of days prior to your event.
Request a Consultation
We'd love to help you get all the information you need in order to make the best choice for your eyes. Request a consultation today! Our staff is available and happy to answer your every question.
Am I A Good Candidate for a Hydrafacial®?
Unlike other exfoliating treatments like microdermabrasion, the Hydrafacial® utilizes a gentler approach that is perfect for those with more sensitive skin. By providing the results of extractions without the uncomfortable side effects, the Hydrafacial® is truly a relaxing experience with instant gratification and no downtime.
This procedure is suitable for nearly everyone, from younger patients with acne to older patients with age-related skin concerns. It is also highly consistent, as the technology ensures a high-quality treatment that produces the same great results every time.
Take the Next Step
Want to know more about Hydrafacials®? Please fill out the form on this page to request an in-person consultation, and one of our knowledgeable medical staff members at Rejuve Med-Spa will contact you to schedule an appointment. You can also call (972) 265-1590 to schedule your appointment.
Rejuve Med-Spa serves the Addison / North Dallas & Borderline Plano areas.